Geneva, Switzerland; 3 April 2019 – In preparation for International Nurses Day (IND) to be held on 12 May 2019, the International Council of Nurses (ICN) today released a resource and evidence toolkit entitled: Nurses: A Voice to Lead Health for All.
"Nurses all over the world every day are advocating for Health for All in the most challenging circumstances with limited resources to deliver health care to those most in need" said ICN President, Annette Kennedy. "ICN believes that the time is ripe for nurses to assert their leadership. As the largest health profession across the world, working in all areas where health care is provided, nursing has vast potential and value if appropriately harnessed to finally achieve the vision of Health for All."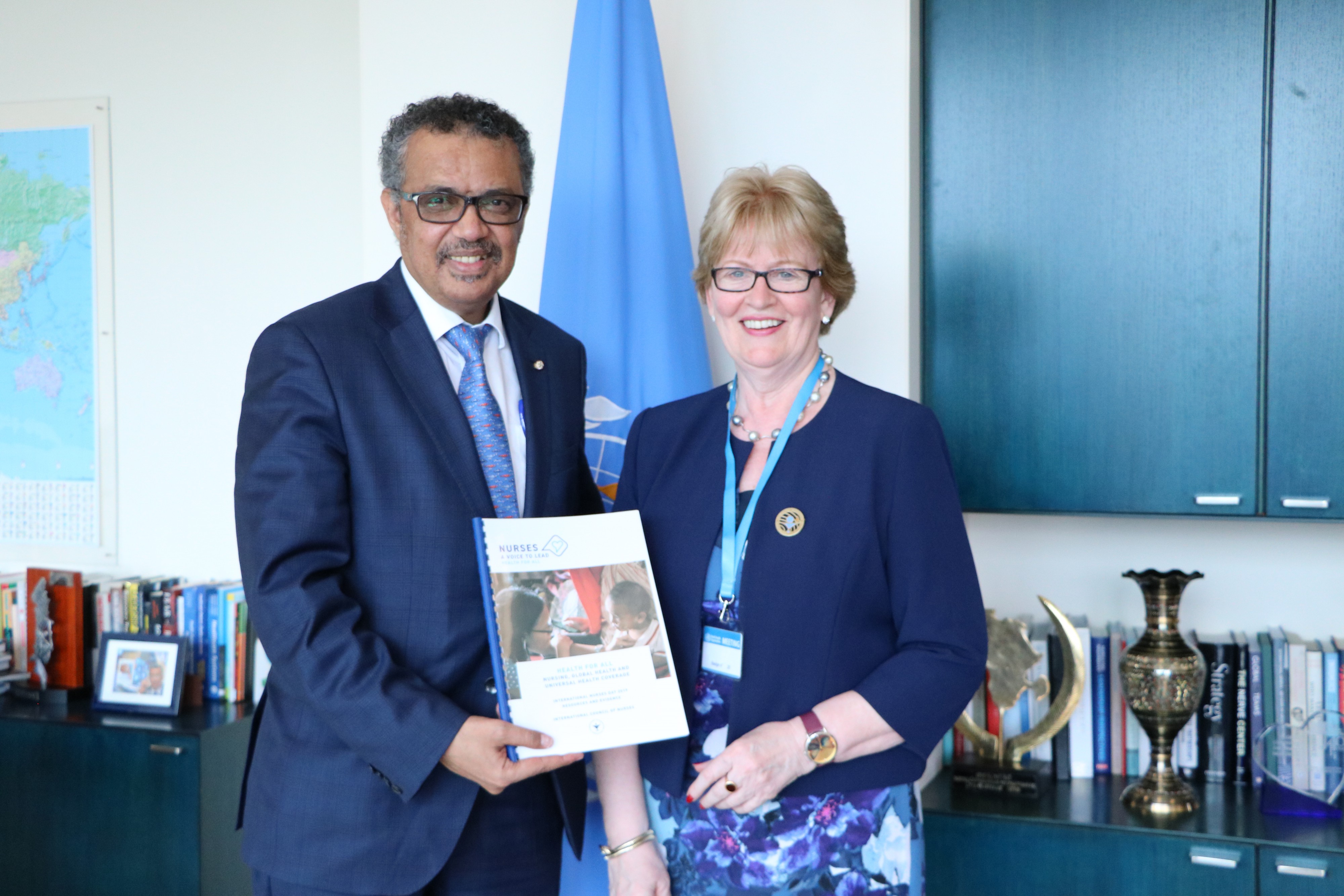 "Nurses and midwives are the backbone of every health system. They account for more than half of the global health workforce and are vital for realizing the vision of universal health coverage," said Dr Tedros Adhanom Ghebreyesus, WHO Director-General. "But to achieve UHC and the Sustainable Development Goals by 2030, the world will need 9 million more nurses and midwives. WHO is proud to support ICN and the Nursing Now campaign to ensure we fill this critical gap."
Ms Elizabeth Iro, Chief Nursing Officer for WHO added, "As Chief Nursing Officer for the World Health Organization, I am proud to be working closely with ICN, who have developed this important resource for nurses around the world. We remain committed to supporting the work of ICN and nurses, who are key to delivering Health for All."
Showcasing nurses' innovative work from around the world, IND 2019 contains case studies which highlight the important role nurses play in ensuring everyone has access to the care they need. The report also highlights the need for nurses to bring their voices, and those of their patients, to the policy table.
"Advancing the leadership skills and policy influence of nurses is at the centre of ICN's work" said Howard Catton, ICN's CEO. "Ensuring that nurses have a voice in the development and implementation of health policy is fundamental to ensuring these policies are effective and meet the real needs of patients, families and communities around the world."
IND 2019 provides three important messages for nurse and policy makers:
Nurses save lives and improve, protect and promote health and well-being.
Nurses are a vital access point to 24/7, birth to death, emergency and ongoing care.
Nurses are the foundation to high quality, affordable, accessible care.
International Nurses Day is celebrated around the world on 12 May, the birthday of Florence Nightingale. The ICN International Nurses Day resources, including the toolkit, a poster and logo, can be accessed on the IND website. Follow us on social media using the hashtag #IND2019